Br(u)no: A Consistent Source of Brno Sports Success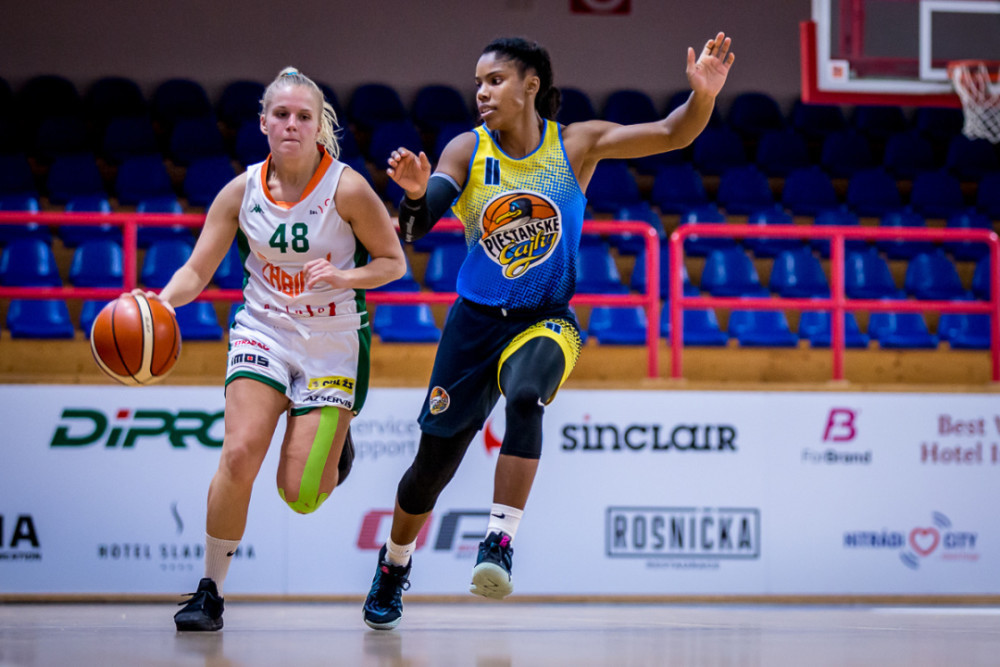 Rivals one year, teammates the next. Janee Thompson (right) and Karolína Malečková will wear the same colors when Žabiny Brno start the Renomia ŽBL season today against Sokol Nilfisk H. Králové at 4 p.m. Photo credit: Jan Russnák.
For the past few decades, Brno has largely been a wasteland for sports.
Yes, HC Kometa provided glory with recent titles in 2016-17 and 2017-18 and the Draci have won 21 Czech titles in baseball.
But, if you are a sports fan in Brno — and, in my case, if you have written about every local sports team in the Brno Sports Report for BrnoDaily.com every Wednesday for the past two years — then, you know that there have been many more disappointing results than celebratory victories. Zbrojovka Brno is constantly struggling. The Alligators and Sigrs are often blown out in American football. And Basket Brno, the local men's team, has won just a third of its games in the past three seasons.
Women's basketball, however, is a sport in which Brno can be proud.
Brno has two teams that start play in the Renomia ŽBL today: Žabiny Brno and KP Brno. Both play an exciting level of basketball, travel around Europe as part of international tournaments and provide consistent excitement and regular victories, if not exactly titles.
Žabiny Brno were the league runners up last year. They start the season with two home games, hosting Sokol Nilfisk H. Králové today at 4 p.m. and, on Tuesday, getting a rematch of last year's title series against league powerhouse ZVVZ USK Praha at 6:30 p.m.
KP Brno, who was runner up to Praha in 2017-18, start the season with two road games. They are at Loko Trutnov tomorrow and they will be at Sokol Nilfisk H. Králové on Wednesday. Their first home game will be next Saturday against BLK Slavia Praha.
The best way to follow the season is through CBF.cz, which is the platform for both men's and women's basketball leagues. To get to the page with the women's schedule, go here and click the "Renomia ŽBL" tab. Then, then "Utkání" tab will take you to the schedule. (If you do not read Czech, use a translator program. The easiest is through Google Chrome: right click anywhere on the text and select "Translate to English"). Game videos are also available on tvcom.cz.
When the two teams meet for rivalry games, it is an experience not to be missed, especially if you are a male-only sports fan who has never given women's sports a try or if you are just someone who wants to experience a passionate side of Brno. Mark the following dates on your calendar: Oct. 19 and Feb. 1.
Last year, Žabiny reached the league finals. That is the good news. The bad news is that they had to play ZVVZ USK Praha and they lost three straight games.
This year, returning to the finals is Step 1. Finally being the team to knock Prague off its pedestal is Step 2. Says Radek Šir, the general manager of the team: "We want to go further than just the finals."
To reach that goal, four new players have been added: Michaela Vondráčková, a 27-year-old veteran post player, has been brought over from Slavia; Anežka Kopecká, a 19-year-old post player, has come down from Ostrava; Janee Thompson, a 25-year-old American point guard, has been brought in from Piešťany Čajek in Slovakia; and Kym Royster is a tough 22-year-old American post player.
The core of the defending runner-up team also returns. ­­­Petra Záplatová, a forward, was selected for the national team and should be completely recovered from an injury. Kateřina Zohnová has a lot of experience and provides steadiness for the offense.
Longtime Žabiny player Klára Křivánková is the captain. Beáta Adamcová and Justina Matuzonyté, a Lithuanian post player, are also back. Michaela Vacková is also a solid player who brings a lot of passion to the court. ­
"It's always hard for 12 women to settle in together," said point guard Karolína Malečková, "but everyone is working together in order to get prepared for the season."
Thompson has a lot of international experience. She played college basketball at the University of Kentucky and then moved to Europe for the past three seasons, with stops in Sweden, Germany and, most recently, Slovakia. She helped to beat Žabiny Brno in the semifinals of the CEWL last year.
"It takes time for a No. 1," head coach Victor Pruša said about the point guard position. "(Thompson) has a lot of experience but it will take some time for her to get the philosophy that we want to use here. Her skills and her basketball knowledge and her ability are all very good."
Royster, and the other new post players, will try to replace Marques Webb, a popular player who is out for the season with an injury. Royster played at Indiana University for four years.
"For Kym it is a little bit more difficult," Pruša said, pointing out that the first year out of college and the first year in a foreign league could make for a difficult transition. "She is strong and aggressive. Those are the attributes that we want."
Of the 12 KP Brno players who finished last season in the ŽBL postseason, only two are still on the roster. Some retired. Others went to a different team. Several are coming back from significant injuries. Even the head coach is different.
KP Brno, in other words, is starting a rebuilding season.
The good news is that KP Brno has a lot of back class that will help to keep the team afloat: they won the Czech Cup and finished second in the league in 2017-18 and they reached the semi-finals last season, before losing to Žabiny Brno and then losing to Sokol Nilfisk H. Králové to settle for fourth place. And the new coach, Dušan Medvecký, has a lot of experience.
It is all coming together, but it is coming together slowly.
"We have many new players," said Medvecký, who is coaching a women's team for the first time after a decade in the men's league with Ostrava and many more years as a successful player. "We started practice on the 12th of last month. Our American player arrived on Sept. 1. We only started playing five-on-five last week."
Michaela Stará is a top scorer from last year's team. Eva Kopecká is a tough sparkplug who always brings extra energy to the game. Sarah Beránková, who is one of the players coming off of an injury, is the team captain. Gabriela Andělová and Veronica Remenárová are also back from serious injuries and ready to play this season.
"This team went from 12 players last year to two players this year," Medvecký said. "It is difficult for any coach to put together a team, but it has been done before."
Gabrielle Green is the American player. She played at Loyola Marymount University and she reportedly has a good all-around game that allows her to play under the basket and shoot from long range.
Emily Potter, a 24-year-old from Winnipeg, Canada, is another important addition. A couple centimeters shy of two meters tall, she is the career leader in blocks at the University of Utah.
"Hopefully we will play good basketball," Medvecký said. "We'll see how it turns out."
KP Brno will continue to represent the Czech Republic in the highly competitive EuroCup.
I hope that this column will provide thought-provoking observations of local life that will be interesting for a Saturday-morning read. If you have any suggestions or comments, please pass them along to bruno@brnodaily.cz.
Disclaimer: The views and opinions expressed in this article are those of the authors. The publishing of this article does not constitute an endorsement of or any other expression of opinion by the management of Brno Daily.
https://brnodaily.com/2019/09/28/column/bruno-a-consistent-source-of-brno-sports-success/
https://brnodaily.com/wp-content/uploads/2019/09/Zabiny280919.jpg
https://brnodaily.com/wp-content/uploads/2019/09/Zabiny280919-150x100.jpg
Column
Basketball,Brno,Czech Republic,EU,Famous People,Kometa,Sport
Rivals one year, teammates the next. Janee Thompson (right) and Karolína Malečková will wear the same colors when Žabiny Brno start the Renomia ŽBL season today against Sokol Nilfisk H. Králové at 4 p.m. Photo credit: Jan Russnák. For the past few decades, Brno has largely been a wasteland for...
Bruno Zalubil
Bruno
Zalubil
bzalubil@hotmail.com
Author
A connoisseur of the unpredictable and unscripted drama of sports.
Brno Daily