Advertise Here
Advertise with Brno Daily and reach English-speaking community in Brno (~ 100,000 visits in 30 days as of April 2, 2020). Since October 17, 2018, Brno Daily has been listed in Google News as a reliable local source of news in English. We offer many advertising options, see and choose what works best for your business.
We help your business to reach international customers in Brno and Prague. Ready for new clients? Get in touch, tell us your ideas and let us design a campaign for you that works – request your tailored offer now: team@brnodaily.cz!

2020 Stats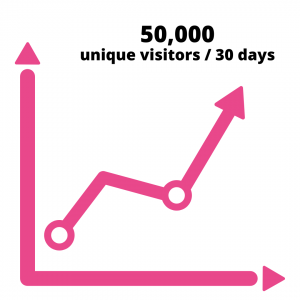 Showcase your brand, venue, or product to 50,000 with us!
Website unique visitors: average 50,000 per 30 days in 2020
Social media sharing included (>8,000 followers on Facebook, >3,500 followers on Instagram, June 2020, >1,700 push desktop / mobile notification on article publication). Featured in BD newsletter for the international community in Brno (700 subscribers).
Tailored Packages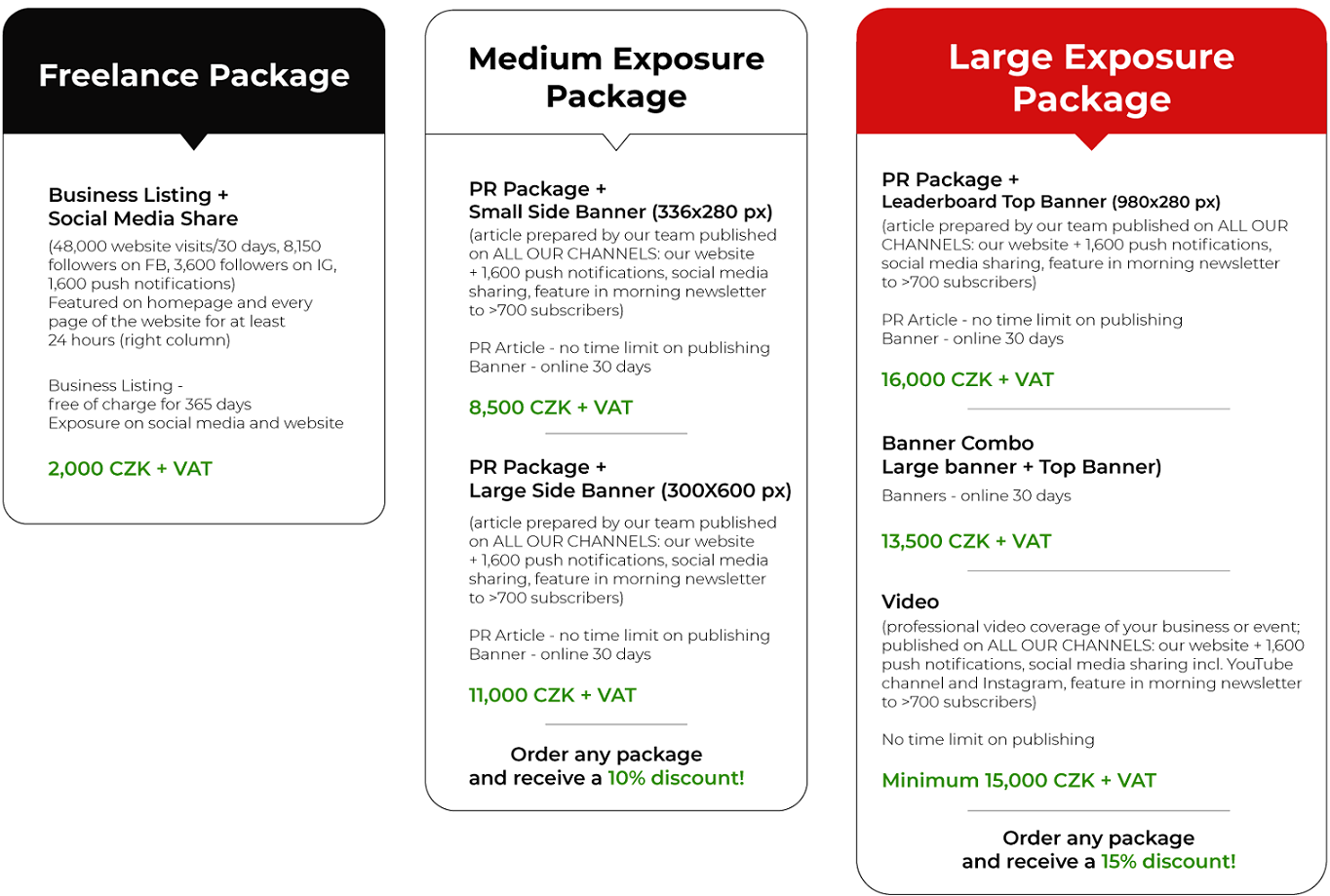 Banner Advertising – Brno Daily
Homepage

Leaderboard banner – top: dimensions: 980*280 pixel
Two banners between sections on homepage: dimensions 728*90

Right sidebar

1st place on the homepage and every single page of the website: dimensions: 600*300 or 336*280

Single Articles

Banner under each article on the website: dimensions 728*90, 336*280

Prices of banners start at CZK 2,000 + VAT. Google ads will be disabled for the time of your campaign.
PR Articles
1 PR Article prepared by you or our team displayed on the homepage.
Prices of articles start at CZK 4,000 + VAT.
Viral video
Video production + promotion on all our channels – websites, Facebook, and YouTube of Brno Daily (reach >20.000 organic views).
Prices of branded videos start at CZK 8,000 + VAT.
Free and Regular Listing in Business Directory
Post your free ad now! Make a 1-minute registration and publish your services online. Simply register, go to the main page of Brno Directory, and click "Submit new listing". Is there the category you need missing? Contact us at team@brnodaily.cz. Are you ready for new customers? Contact us, our team will mail you the pricing plan shortly.
Pricing details: Free for 365 days with NO exposure. Extra exposure on social media channels, via notifications, and newsletter: CZK 2,000 + VAT. We recommend to combine these options.
Service

Free

Regular Listing

Contact information (phone, address)

Link to external website

Featured among the three latest listings in the right column site-wide

Extra info (opening hours, prices, social media)

Up to 5 photographs of your business or products, featured video if applicable (shared from YouTube or Facebook)

Interactive map with location of your business

Description of services or products

180 characters

Unlimited
text
Job Advertising
Advertise your jobs at Brno Daily via Jobspin.cz! BD with its Jobspin.cz connection is the best platform for reaching out to bilingual people in Brno. Jobspin.cz is a job board for multilingual jobs in Prague and Brno.
Official website: Jobspin.cz – Search it, find it, get it.
PACKAGES: Post your jobs at Jobspin.cz with RSS export to Brno Daily.
More information for employers and job posting system available at Jobspin.cz.
We offer special discounts for long-term cooperation and bulk advertising. Send us an E-mail today: team@brnodaily.cz. We'll respond shortly.
Brno Daily
English News and Events in Brno.
Managed by: Jobspin International s.r.o.
Contact us: team@brnodaily.cz, +420 608 12 12 84.
Jobspin International s.r.o., Březina 58, 666 01.
Company Registration No.: 03092658
Tax Identification No.: CZ03092658
10/6/2014 established and registered in companies' register by Krajský soud v Brně, section C, number 83586.
Partners