Travel Brno: Soaking in Slovakia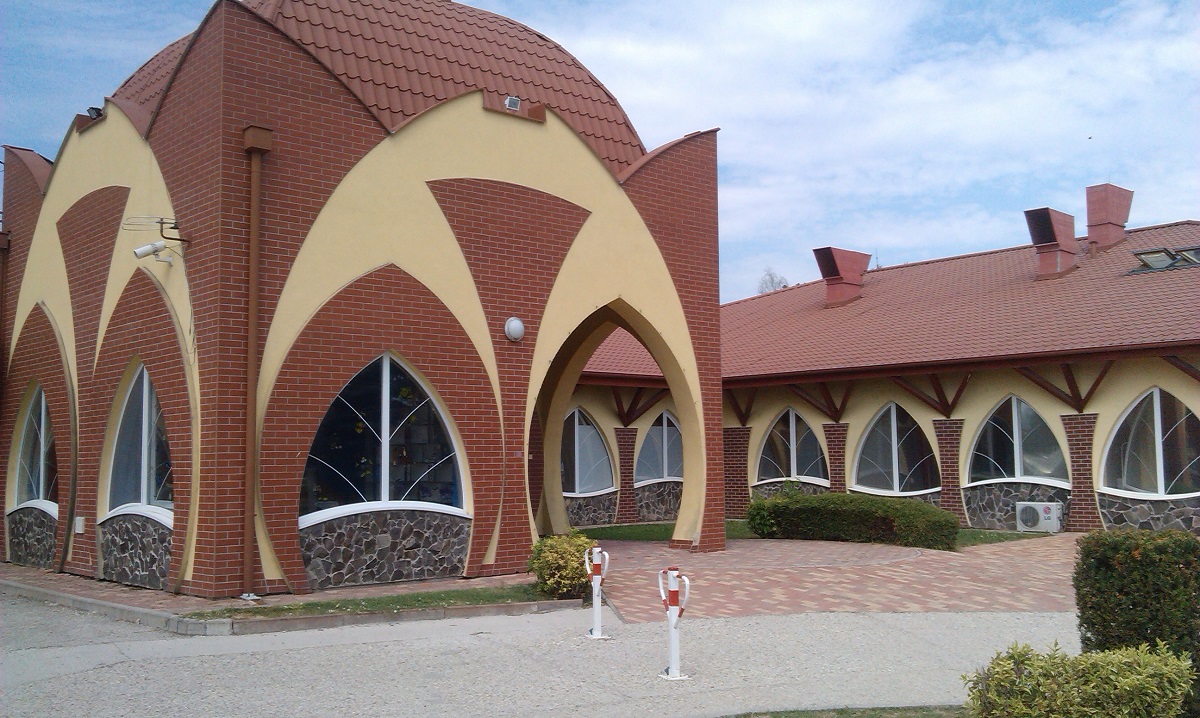 Veľký Meder is a small town in Slovakia with a big thermal spa — and fun architecture.. Photo credit: Brno Daily.
One of the coldest I have ever been in my life was in Veľký Meder. That is ironic, because the reason I went to the small town in southern Slovakia was to luxuriate in the natural hot springs.
It was 2012 and, because Brno schools had a three-day weekend at the end of the semester, my then-girlfriend-and-now-wife and I wanted to get away. A quick trip to the neighboring country seemed like a good idea: just far enough to make it an actual trip; just international enough to make it exotic; and, most importantly, completely focused on relaxation in naturally warm water.
It was a good choice. Except it was cold.
The weather was below zero the whole time. The heating didn't work well in our hotel room. And walking around the town — and especially waiting for the train on our way home — was excruciatingly cold.
Yet, even that powerful memory of freezing did not ruin my visit nor preclude a return trip. I was so cold because I had been so snuggly warm while in the water.
There are many thermal spas in Central Europe. Bohemia has Karlovy Vary, Mariánské Lázně, Františkovy Lázně and Jáchymov. Luhačovice is a bit more than an hour to the east of Brno — and I recommend visiting for a long weekend. Piešťany, a town in the middle of Slovakia is a nice destination. Budapest has famous thermal spas within the city.
And, much closer to Brno, Aqualand Moravia in Pasohlávky and Therme Laa in Laa an der Thaya, Austria, are easy day trips.
But, for a travel experience, and a way to explore a part of Slovakia that is a bit off of the beaten path, Veľký Meder, and its nearby neighbor Dunajská Streda, are rewarding, if undramatic, destinations.
I have since gone back to southern Slovakia a few times. The year after our first (cold) visit, we went to Dunajská Streda, another town with a spa, on the three-day middle-of-the-school-year break. Both Veľký Meder and Dunajská Streda are in the Hungarian-majority parts of the Slovak Republic. If you understand a bit of Czech, the Slovak is similar. However, many in southern Slovakia will start with Hungarian. That can get a bit tricky (by which, of course, I mean more interesting).
There is nothing spectacular about southern Slovakia. It is basically flat and mostly farmland. There is nothing pretentious That, I think, is why I like it. The spas are for normal people. You don't have a lot of posturing or preening. You pay for the admission, you sit in the water, occasionally you move to different pools, then, after some hours, you dry off and go on your merry way, with your muscles softened to jelly.
Veľký Meder is a spread out little town of about 8,000 people. There is a central core, where you'll find a supermarket and a late-night pizza window, and there is a street with bars and restaurants. Tourism is low in the winter so it is easy to move around. I'm not sure about the nightlife.
The summer seems to be very active. There are a lot of biking and other outdoor activities. Definitely the thermal spa has many more features when the weather is warmer. Some day we may come back in the summer but, frankly, I think of Veľký Meder as a winter place, mostly because it is not overrun by tourists.
Last year, we took the two kids to Veľký Meder. In the years since our first visit, the area around the spa has developed quite a bit. There is an entire neighborhood that has sprouted up. Rentals are abundant, especially during the offseason winter month.
We rented a small house for two nights for around 70€. The trip was easy. The accommodations were clean and comfortable. And it was a simple 300-meter walk from the thermal spa.
We spent a full day in the spa with the kids. They had a great time in the kid pool, where there is a small slide, streams of water to play with and easy access to everything. The water was slightly cool (to the adults anyway) so we often took the kids into the larger pool in another part of the complex, where the windows were steamed up from the humid environment. The kids loved floating around with their "muscles", which is what I call the floatation devices that they wear around their biceps.
Being in the outside pools is a great mix of sensations. Your body, from your neck down, is in the warm temperatures of the water while your face and hair are subject to the freezing air of the winter day. It is an exhilarating balance that clears your throat and your head.
The kids loved to slowly work their way through the misty pools, delighting in the adventure of the exploration.
Truth be told, I've gone to many spas. I enjoy the idea of going every time. Often I try to have hard workouts and runs in order to give my muscles a soothing massage. But, after about an hour, I'm bored. Bring a book to relax on the deck chairs, if you are lucky enough to get one.
I am not good at relaxation. I don't love sitting in water for hours as my fingers turn into prunes. I find myself moving around a lot, from pool to pool and place to place. I really don't get how people can sit in the same place for hours.
I try to hydrate and I look forward beer at the snack bar. It recreates the summer sensation of having a solid sweaty run and rewarding yourself with a nice cold beer. That is worth the boredom. Make sure to drink the local beer; Zlatý Bažant is pretty decent.
Don't expect anything as far as the food is concerned. There is nothing more than snack bar fare.
The kids always seem to find things to do, although you are constantly worried about them slipping and falling. The toboggan slides are fun. They can be a bit much for toddlers, but a solid hold by a parent can make the downward trip fun, instead of terrorizing.
The second day, we walked through the town and got groceries in order cook lunch and dinner. Everything was relaxed and unhurried.
The wife had an afternoon and evening in the thermal spa to herself. I had a party with the kids, which meant two Disney films, microwave popcorn and cookies.
Sometimes, being in a new place is just enough for a new level of fun.
Veľký Meder
Veľký Meder, according to mapy.cz, is 200.2 km from Brno. The quickest route goes through Bratislava and takes a bit more than two hours.
By train it will take longer. You'll have to transfer in Bratislava. Once you get in the town, there are sidewalks and pedestrian friendly intersections, so it is all manageable on foot, but it is about a kilometer from the train station to the thermal spa. It is better to have a car.
Adults are 10.50 € for the whole day. Kids between 3 and 15 are 7.50€. Kids under 3 are free.
There are family deals for 26.00 € (2+1) and 33.00 € for (2+2).
Dunajská Streda
Dunajská Streda is about 20 km closer to Brno. It has more of a center. It even has a mall, with a cinema.
The Thermal park is smaller and cheaper. An adult for a full day is 9.00€. Kids between 3 and 14 are 6.00€. Kids under 3 are free.
https://brnodaily.com/2020/02/02/travel-tips/travel-brno-soaking-in-slovakia/
https://brnodaily.com/wp-content/uploads/2020/01/VelkyMederSpa020220-1024x613.jpg
https://brnodaily.com/wp-content/uploads/2020/01/VelkyMederSpa020220-150x90.jpg
Travel
Slovakia,Travel Tips,weather
Veľký Meder is a small town in Slovakia with a big thermal spa — and fun architecture.. Photo credit: Brno Daily. One of the coldest I have ever been in my life was in Veľký Meder. That is ironic, because the reason I went to the small town in southern...
Bruno Zalubil
Bruno
Zalubil
bzalubil@hotmail.com
Author
A connoisseur of the unpredictable and unscripted drama of sports.
Brno Daily