Crowded Stretch Run Finishes with Faltejsek and Tzigane Du Berlais Win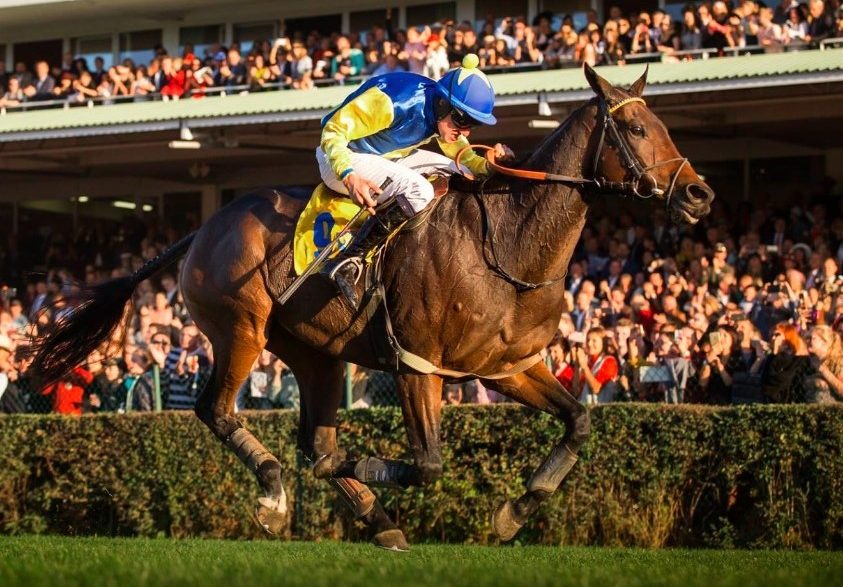 Jockey Jan Faltejsek wins his fifth Velká Pardubická, this time with a well-timed ride on Tzigane Du Berlais. Photo credit: Závodiště Pardubice.
Pardubice, Oct. 15 (BD) — At the top of the homestretch, seven horses cleared the final barrier within a few lengths of each other. Each had a chance to win the 128th running of the Velká Pardubická. Only one would.
The crowd, anticipating a legendary finish, roared to life. The infield bell signaled the all-out sprint to finish.
Hegnus, Stretton and Zafir were down on the inside, near the rail, eyeballing each other. That is when the winner made his move.
Tzigane Du Berlais, under the skillful handling of jockey Jan Faltejsek, had stayed just off the pace for most of the 6.9-kilometer race. On that 31st and final jump, horse and jockey pulled out to the middle, outside of the leaders. When they cleared the barrier, they were a couple lengths behind with an open lane to the finish. Faltejsek got his mount focused with strong right-handed urging and, by the middle of the stretch run, Tzigane Du Berlais had taken the lead and built enough momentum to hold on through the finish.
"I knew that he could finish," Faltejsek said. "I just had to find a position and wait."
The crowd roared as Faltejsek waved his right hand in triumph at the finish line. It was his fifth Velká victory. The official winning time is 9:05.56.
Faltejsek had kept the French-bred Tzigane Du Berlais, who had odds of 6.5-1, in the second wave of horses and out of trouble as the field maneuvered around the course. Several horses fell and lost their jockeys. On the Big Taxis jump, Vicody landed badly and died.
"You have to keep (Tzigane Du Berlais) in contact (with the leaders)," Faltejsek said about his midpack position. "If you lose focus for a while, he will back up and his race will be over."
In this case, Tzigane Du Berlais had plenty of energy left to win easily.
Hegnus (5-1 odds, ridden by Marek Stromský) finished second by a head over Stretton (75-1, Thomas Garner). Zarif, under Raffaele Romano, was fourth. No Time To Lose, the defending champion and the race-favorite, was fifth under Josef Váňa, Jr.
"It was a beautiful race for the fans," said Josef Váňa, Sr., the longtime jockey and trainer who saddled Zarif, No Time To Lose and sixth-place Ange Guardian for total purse earnings of 1,050,000kc. "There were a lot of horses who could have won it. Today, there were just other horses who were better than us."
The total purse for the race was 5,000,000kc. Tzigane Du Berlais earned 2,000,000kc for the victory for Dr. Jiři Charvát, who is also the president of the Czech Jockey Club.
"He has not run so much," Charvát said. "We have saved him from the beginning of his career. Maybe we will take him around to other places. Maybe we will see what Cheltenham (in England) is like."
Winning Trainer Pavel Tuma was quite emotional after the race. "This has been a tough year," he said, without elaborating. "I thought I would give up. I thought I would leave (horse racing)."
Now he has a Velká winner.
Faltejsek Wins Fifth Velká in Seven Years
Faltejsek has dominated Velká Pardubická this decade. He has won five of the last seven runnings with three different horses. He now trails only Váňa and his eight riding wins for the most in history.
Early in the day, though, it seemed touch and go for Faltejsek to even ride in the big race. On an early barrier in the first race, he took a tough fall. Faltejsek, who missed last year's Velká because of injury, might have missed out on his latest victory.
"I wasn't well," he admitted. "Sometimes a man has to clench his teeth and go further."
Faltejsek rebounded to win the fourth race with Lombargini.
Faltejsek's previous Velká victories were with the frontrunning filly Orphée des Blins in 2012-14 and Charme Look in 2016.
"It is tough to compare them," Faltejsek said, while sitting next to Dr. Charvat in the post-race press conference. "Orphée came with experience, but it took a while for her to get going. In her first one nobody believed in her, then she added two more. Charme Look got it in one and we thought he would have more. This one is a young horse. He has a lot of growth ahead of him. He has a lot ahead of him. I believe that he can show a lot of things in the future."
Faltejsek has ridden in England and throughout Europe, but he is settling back into riding full time in the Czech Republic. He clearly knows the Pardubice racecourse well. If you consider that he was injured last year, he has won five of the last six Velkás in which he rode: "I know this ground quite well," he said. "I am not afraid of any of (the jumps). I have jumped them all a number of times."
Life and Death
The day was a bright and sunny mid-October day. There was not a cloud in the sky.
The racetrack started filling up in midmorning and the roads were clogged well past noon. The festival atmosphere permeated the track. The garden buzzed with people milling around the many food booths, souvenir stands and horse-themed displays. The corporate booths and high-priced balcony sections were filled with well-dressed racegoers in fashionable clothes and hats and the apron was jammed with families and fans wearing shorts and T-shirts.
Unfortunately, the racing had its dark side, though most of the fans did not know about it and did not appreciate the life-and-death nature of the sport.
• In the fourth race, jockey Ján Mach fell from and was dragged for a considerable distance by Smajík. He was conscious and taken to the hospital. Early reports are that he had broken both of his hands.
Mach was to have ridden longshot Mileryt in the feature race. Mileryt earned the award as the best turned-out horse in the paddock prior to Velká, but Mach was in the hospital. Mileryt did not finish the race under replacement-rider Michal Kubik.
• Additionally, Vicody died when he did not take the jump well and landed poorly in Velká. The Big Taxis is a jump that has an infamous reputation as one of the most dangerous in the steeplechasing. It was changed significantly several years ago to make it more safe, but on Sunday, Vicody, who had been ridden by Josef Bartoš, did not survive.
The Supporting Races
In the earlier races, Izynka pulled away under a hand ride by Lukáš Matuský to win the 400,000kc Vltava Stakes and its first prize of 200,000kc. This race was used a stepping stone to Velká Pardubická glory, especially after 2016 victory No Time To Lose won Velká in 2017.
The 700,000kc Labe Stakes had a stretch run that included five horses. In the end, Mahony, under Marek Stromský, took the lead along the fence and pulled away for a narrow victory and the 350,000kc first-place check. French invader Unbrin de l'Isle was second, followed by Player, Power Zar and Silk.
Jaroslav Myška won two races on the eight-race card: the first with Apple's Kamikaze and the third with Evžen.
Get the news first! Subscribe to our daily newsletter here. Top stories of the day in your mailbox every morning.
https://brnodaily.com/2018/10/15/sport/crowded-stretch-run-finishes-with-faltejsek-and-tzigane-du-berlais-win/
https://brnodaily.com/wp-content/uploads/2018/10/Crowded-e1539591828622.jpg
https://brnodaily.com/wp-content/uploads/2018/10/Crowded-e1539591828622-150x104.jpg
Sport
Breaking News,Brno,Czech Republic,Sport
Jockey Jan Faltejsek wins his fifth Velká Pardubická, this time with a well-timed ride on Tzigane Du Berlais. Photo credit: Závodiště Pardubice.Pardubice, Oct. 15 (BD) — At the top of the homestretch, seven horses cleared the final barrier within a few lengths of each other. Each had a chance...
Bruno Zalubil
Bruno
Zalubil
bzalubil@hotmail.com
Author
A connoisseur of the unpredictable and unscripted drama of sports.
Brno Daily