Love stops time in Brno…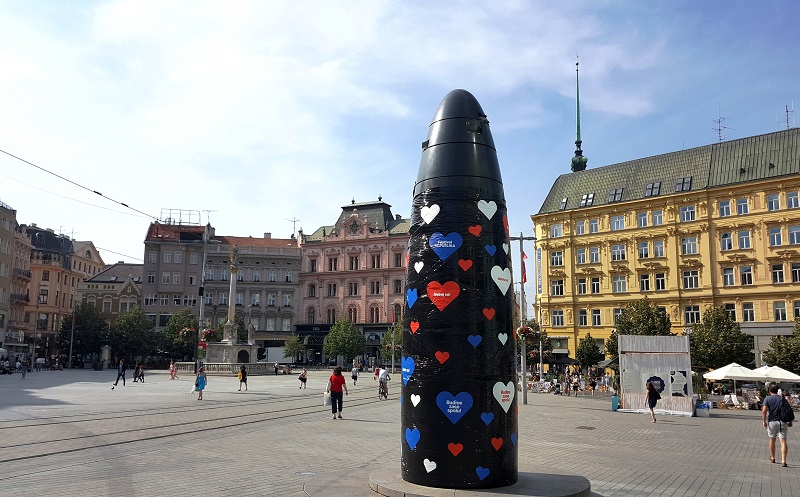 Every city has its popular meeting points. In Brno, the phallic astronomical clock in Liberty Square is undoubtedly one of them. "The clock has turned into a symbol of love for Brno and a meeting place for singles and dates," the official website of the City of Brno states. Photo credit: Berk Büyükbalcı
Brno, Jun 13 (BD) – The astronomical clock, one of Brno's newer symbols, has stopped for seven days for the first time. "It is a reference to the project of conceptual artist Kateřina Šedá that is preparing the biggest Czechoslovak date for RE: PUBLIKA festival," the city's website reads.
People would probably not notice that the clock doesn't function and measure time if it was not for the sudden interruption of the hourly drop of the glass spheres and people flocking around and waiting for them.
At the last festival weekend, Šedá invited 1918 single people from the Czech and Slovak republics to the G2 pavilion to try to overcome their solitude. The event requires pre-registration, more details are to be found at the official website www.nejvetsirande.cz.
"While a celebration [of Czechoslovak centennial] may mean different things to different people, all will agree on one basic thing: Celebrating alone is no celebration at all," the artist writes on her official website.
Get the news first! Subscribe to our daily newsletter here. Top stories of the day in your mailbox every morning.
https://brnodaily.com/2018/06/13/breaking-news/love-stops-time-in-brno/
https://brnodaily.com/wp-content/uploads/2018/06/astronomical-clock.jpg
https://brnodaily.com/wp-content/uploads/2018/06/astronomical-clock-150x93.jpg
Art & Culture
News - Archived
Brno,Brno Urban Guide,Culture,History,Lifestyle and Fashion,Things To Do in Brno
Every city has its popular meeting points. In Brno, the phallic astronomical clock in Liberty Square is undoubtedly one of them. "The clock has turned into a symbol of love for Brno and a meeting place for singles and dates," the official website of the City of Brno states....
BD Staff
BD Staff
team@brnodaily.cz
Administrator
Brno Daily - English News and Events in Brno.
Brno Daily