Oh, mein Brünn! Austrian & German food, products, events and entertainment in Brno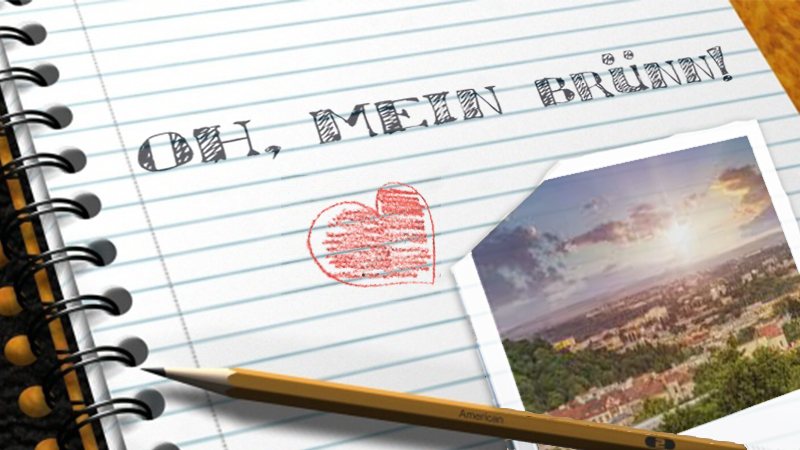 Find places and things to do in Brno that will make you feel like if you had just landed in a German-speaking country. Photo: @BrnoDaily
Brno, Nov 16 (BD) – As you have probably realized while walking down the main streets of Brno, many corners of the city recall Austrian and German architecture and culture. The links to the common history are all over town.
It would be undeniable to say German and Austria left a huge footprint in Brno. This is no surprise, as everyday life in Brno, Brünn, around 1900's was bilingual – the central city area had a predominantly German-speaking population (63%), as opposed to the suburbs which were mostly Czech-speaking. The spoken language was referred to in German as "Brünnerisch", and was a mixed idiom containing elements from both languages.
Thinking about German-speakers and German culture lovers, we have compiled the best things to do in the city.
Here we provide suggestions for the restaurants offering Central European dishes; supermarkets and specialized online stores where you can find the right ingredients for German and Austrian cuisine; communities, where to go to meet new people that happen to speak German; German language lessons; and much more!

Buy German & Austrian products in Brno
Seeking German-made products is actually pretty easy in Brno due to the huge quantity of German market chains based in Czech Republic. For those who want to cook typical German and Austrian food on daily basis, it is not a hard task to find the right ingredients.
Concerning food, if you can't find ingredients in one supermarket, you will surely find what you are looking for in another. It takes a blink of an eye in Brno to bump into Lidl, Kaufland, Billa and Globus. More specifically, Lidl organizes thematic weeks offering food from various countries on a discount, and Austrian or German week sometimes also makes appearance.
Another reason which makes the products and ingredients easy to find has to do with similarities in cuisine, so it is very likely the products used in Czech cuisine will also work for Austrian and German food.
If you are looking for something more specific, in the shopping malls Vankovka (map) and Olympia (map), you will find German clothes brands such as Peek & Cloppenburg, Takko and Deichmann (shoes) as well as cosmetic products which can be purchased  in DM or in Rossmann.
Buy German products online
We have also found tips for you, so that you could do your grocery shopping comfortably and without leaving the warmth of your home. Besides the huge amount of physical stores, there are also websites where you can shop online German-branded products.
Nemecky Obchod (link). This company is located in Brno, and their services are convenient for busy people who do not have time to go out and make their groceries. Nemecky Obchod delivers your products at your home. Nemecky Obchod offers German-made groceries, cosmetic and cleaning products.
The home delivery costs CZK 49, and in case you make an order exceeding CZK 690, there are no additional fees. Delivery time: Monday to Friday from 9 AM to 8 PM.
Nemecky E-shop (link) and Drogerie Nemecko (link) follow the same line as the online shop Nemecky Obchod. You will find all the German drugstore and food products, and plenty more. Unfortunately, these companies do not offer home delivery services. Some of these websites have a section dedicated to promotions and discounts.

Another e-shop is Nakup z Nemecka (link), which sells a huge variety of German imported products that are not common in the Czech Republic market, even sometimes at lower prices.
If you are interested in buying products from the giant of electronic commerce Amazon, it is a good idea to look up its German website (link).
Up to this point, Amazon does not have a Czech storage. However, using the German web site makes a very efficient, safe and fast way to shop online. Unlike most of the online shops, Amazon Deutschland offers the possibility to pay with debit card instead of credit card.
If you have an Amazon Prime subscription in another country, it won't work for the deliveries in the Czech Republic.
This guide continues with one of the best things life has to offer – food!
Central European cuisine – restaurants with Austrian food in Brno
As we already noted, German, Austrian and Czech traditional food share many similarities. Therefore, in Brno we haven't found restaurants dedicated only to Austrian and German cuisine, but we have found many places ready to serve you delicious, warm and rich cuisine and take you momentaneously to Austria, which should do the trick and satisfy your hunger.
… Mahlzeit!
Hostinec U Semináru is part of Brno's history. The restaurant is housed in the space where a pub already existed at the time of the First Republic (inter-war period) – and according to its administrator Martin, they are to proud to follow this tradition.
In the restaurant where a very welcoming atmosphere prevails, the staff of Hostinec U Semináru will be happy to serve you not only Czech specialties, but also Austrian-Hungarian styled dishes and amazing wine.
Hostinec U Semináru maintains cooperation with family wineries from South Moravia to provide you with the best wine of the region.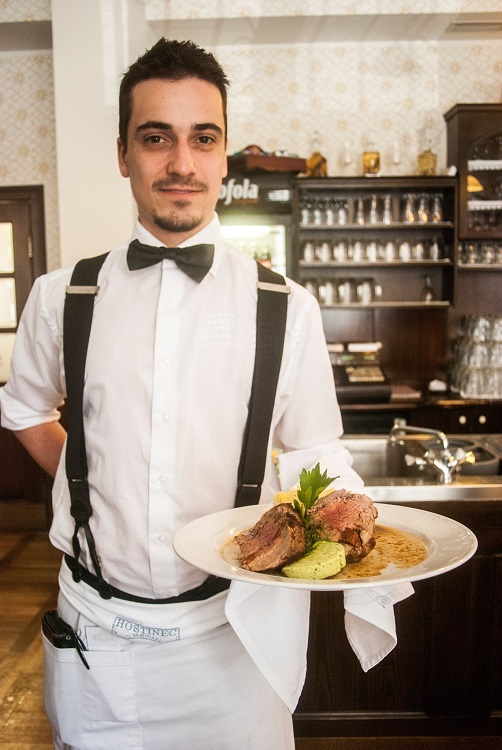 Hostinec U Semináru offers a meal menu and a week menu, so you won't get tired of it for sure! We recommend you to try the Tafelspitz – boiled beef tip in broth with root vegetables, sautéed grated potatoes with fresh marjoram, cold chive sauce and apple horseradish or the Viennese veal steak. See the full menu here.
"Loved the decor—Austro-Hungarian style. The menu is clean yet it offers enough variety. Don't miss the weekend specials," a happy client wrote in his review.
Address:  Smetanova 30
Forhaus is a modern restaurant that offers good central-European cuisine. So, don't expect to see only Austrian food on menu. Instead, you can take adventure and try beautifully tasty highlights such as tartar steak, spätzle with Slovakian bacon, Hungarian fish soup Halaszle and Marinated beef entrecote steak Esterházy.
Those that crave so bad for typical Austrian food can start with, e.g 'Rinderkraftbrühe mit Tiroler Knödel', Wiener Schnitzel or the Tafelspitz with root vegetables, leek, roasted potatoes, spinach, apple horseradish, chive sauce and mustard dressing. For dessert, the suggestion falls on the homemade Sacher cake, Apfelstrudel and Alpine Kaiserschmarrn. See the menu.
"The Forhaus presents itself as modern styled, nice restaurant with close relationship to Austrian Cuisine. I choosed a soup as starter 'Rinderkraftbrühe mit Tiroler Knödel' and as main course 'Wiener Schnitzel'," a client wrote as review.
Address: Pekařská 4, 602 00

Sunset Restaurant, as the name suggests, is a amazingly located restaurant with garden terrace. From the restaurant, visitors can admire the inspiring views of Brno. It is the perfect place for special occasions.
Sunset combines the best of Central European cuisine and wine with the ideal atmosphere. To go for typical Austrian-styled dish, try the Veal Schnitzel coated in herb breadcrumbs. See menu here.
Address: IBC Centrum, Příkop 843/4
Restaurant-café Central offers the most delicious combination of Old Bohemian and Austro-Hungarian food. As main dish, you can have the Viennese steak, Tafelspitz or Roastbeef. To sweeten your day, finish the meal with the best of Austrian desserts: Kaiserschmarrn or Sachertorte.
Address: tř. Kpt. Jaroše 20
Hungry on the street?
…have something salty!
In Germany, Bratwurst and Currywurst are popular street food. Here in Brno we couldn't find food stands selling exactly those German specialties, however the Czech street food proved to be a good solution. We suggest you to try the sausage grilovaná klobása.
…have something sweet!

If you are looking for a typical Austrian Sachertorte, Cosmopolis Café is the ideal place to relax while having a coffee and a piece of cake. Cosmopolis Café serves daily homemade desserts made from raw and fresh ingredients. All the sweets are baked through traditional methods without food coloring and artificial sweeteners.
Address: Zelný trh 314/2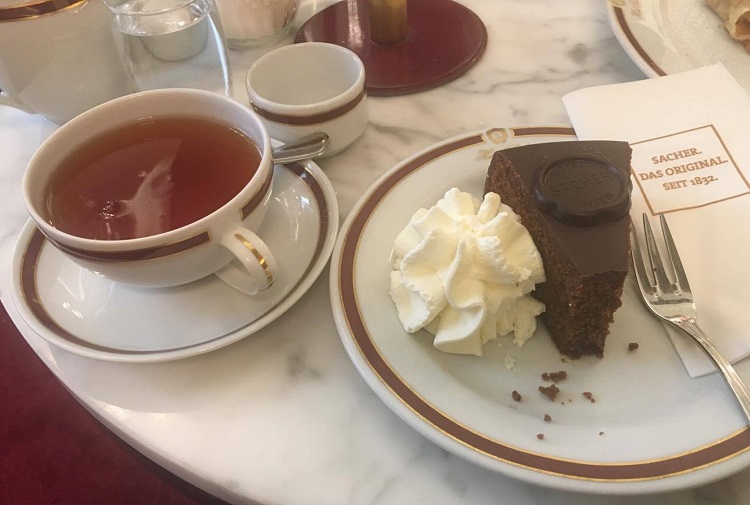 Find online German-speaking community in Brno
Groups dedicated to German speakers and online German-speaking communities in Brno
There are two main groups on Facebook dedicated to German speakers relocated in Brno. It doesn't matter if you are a German native or not. Just speaking the language is a good reason to join these communities!
This is the biggest group on Facebook, dedicated especially for German speakers living in Brno. So far, the group has more than 1.100 members. Deutschsprachige Treffen in Brünn was created six year ago by Daniel Timmerberg, with the aim of establishing meetings only spoken in German.
At the moment on the Facebook group, people share information about upcoming events, jokes in German, sometimes news and event suggestions.
This group is a way to people get informed about the weekly meetings. It is also ideal to meet other German speakers, get informed about German-spoken events in Brno and ask for advices and recommendations.
Get to know & get-togethers in Brno – Bier und Spaß!
Deutschsprachiges Treffen organized by Deutschsprachige Treffen in Brünn/ German-language meetings in Brno. These meetings are a very nice idea for people who just arrived to Brno and are looking for get to know new people and make new friends, and of course, also for those who are living in the city for long time. Actually, everybody is welcome.
The idea of such meetings was inspired in the English Meetings that take place every week in different pubs and restaurants of the city.
"I created the "German-language meetings in Brno" some 6 years ago, because I went to English meetings a lot in 2010 and 2011, where I found some people who also spoke German… This group functions as an integrative tool for people, who come from Germany or Austria, but it also connects people, who are not native speakers of the German language. You will find a lot of Czechs there, who want to improve their German," explained Daniel Timmerberg.
The meetings take place every Wednesday, starting from 8 PM at the pub Zahrada Ambrosia (map).
Internationaler deutschsprachiger Stammtisch. In a cheerful and very welcoming environment, people sit next to each other to enjoy a cool beer and nice conversation. The last meeting rounded up about fifty very friendly people with whom was very easy to start a conversation.
The meetings take place on every Wednesday, starting from 8 PM, in Nálevna u Leona. Interestingly, during the meeting, you'll never be thirsty. As your glass starts to run out of beer, the waiter will immediately bring another one!
The Internationaler deutschsprachiger Stammtisch promotes very well-spent Wednesday evening that will make you want to take part of the meetings weekly. Beside, we ensure you that non-native German speakers will feel at home.
The meetings take place every Wednesday, starting from 8 PM at the pub Nálevna u Leona (map).
Deutscher Kulturverein e.V. Region Brünn (link), the group focuses more on the German minorities living in Brno. The group was created 1968 and it is still active till today.
Weekly, the Deutscher Kulturverein organizes meetings that take place on every Wednesdays. People  are welcome to come and spend a nice time drinking tea, while talking and sharing their experiences.
Beside this regular meetings, e.g, the group also organizes cultural events, activities in German for children and adolescents and other projects that promote the German-Czech relationship.
Even though, the activities target mainly the German minority, everyone is welcome to join.
Address: Jana Uhra 12
Entertainment & events
Powidl makes sure to keep you updated with the most freshest news  about Politics, Economy, Sport and Culture in Czech Republic. This online magazine is completely written in German, by editors living in Czech Republic for long time. Take a look here.
From time to time, there are German-speaking events taking place in Brno. Here we give tips on some you might not want to miss.
The Lange Nacht der kurzen Texte is an event organized by the Österreich Institut happening twice a year. The thematic of the second edition of this year will is "Quelle: Mama".
The Lange Nacht der kurzen Texte is appropriate for those who are learning German, and this is a great way to improve their linguistic skills and creative writing. The event takes place on the November 23, from 7PM, at the Österreich Institut Brno. More information can be found here.
Test your knowledge in an exciting pub entertaining test. Together with Österreich Institut, BAGR is organizing the third edition of Deutsches Pubquiz. The evening promises a lot of fun, music and giggles.
The next Deutsches Pubquiz (event on Facebook) will take place on the November 30 at 6 PM, at Minská 15.
This event is for everyone who appreciates good music. On December 14, MusicLab hosts the Austrian band "HI5".  The Tyrolese quartet group will bring to Brno the best music of the contemporary Austrian Jazz scene. The band has won awards such as 1st place Bucharest International Jazz Competition 2013 and Jimmy Woode European Jazz Award 2013.
Find more here.
Another big event, Das Film Fest, is organized usually once a year, in October. It's been 12 years since the first edition. The film festival brings to Brno the most interesting Swiss, Austrian and German films. Read more about the last event of Das Film Fest here.

Language schools to learn German in Brno
If you are interested in improving your German skills, there are some good options in Brno.
The Österreich Institut Brno (official website) is a language school specialized only in teaching German.
The institute offers one of the most popular German courses of the entire city. According to their website, every year around 1.800 people attend their courses.
In a multicultural atmosphere and using the most modern teaching methods, the school provides the ideal conditions to learn German.
"There are many wonderful teachers and students at the Österreich Institut Brno: I have taken three course and this is a great opportunity not only know German culture, but also to meet friends from different countries. Every morning on tuesday I spent my time here and for me this is absolutely an unforgettable experience that I get abroad," wrote a student as review.
Address: Moravské nám.15
Deutscher Kulturverein e.V. Region Brünn offers German lessons for different levels – beginning, intermediate, advanced – and also those who are interested in practicing their speaking skills, there are conversation lessons.
In comparison with other language courses, the prices of the courses from Deutscher Kulturverein e.V Region Brünn are quite affordable.  Take a look here.
Enjoyed the reading?
Check other articles from the series:
https://brnodaily.com/2017/11/16/brno-urban-guide/oh-mein-brunn-austrian-german-food-products-events-and-entertainment-in-brno/
https://brnodaily.com/wp-content/uploads/2017/11/oh-my-brno-2.jpg
https://brnodaily.com/wp-content/uploads/2017/11/oh-my-brno-2-150x84.jpg
Art & Culture
Brno Daily Recommends
Brno Urban Guide
Eating Out / Nightlife
Brno,Brno Urban Guide,Culture,Czech Republic,Eating Out / Night Life,Expats Czechia,Things To Do in Brno
Find places and things to do in Brno that will make you feel like if you had just landed in a German-speaking country. Photo: @BrnoDailyBrno, Nov 16 (BD) - As you have probably realized while walking down the main streets of Brno, many corners of the city recall Austrian...
Joana Dias
Joana
Dias
almeidadiasjoana@gmail.com
Contributor
I study Media and Communication Science in Germany and I originally come from Portugal. I love photography and hiking!
Brno Daily