My Greek Brno – Greek restaurants, products, and events in Brno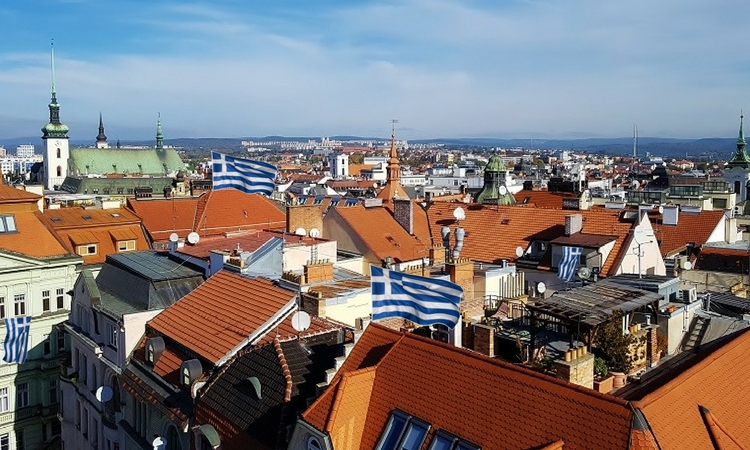 "Give me a word, any word, and I'll show you that the root of that word is Greek!"
Picture: @BrnoDaily
While you are walking in the streets of Greece after a whole day of swimming in the warm Aegean Sea and… wait, let's start again.
While walking the streets of Brno after an exhausting day at work, hungry and waiting for the tram to arrive while it's 3 degrees outside, what is all you wish for?
Being in a warm place surrounded with Greek smells would be a solid option, because as it is known: Greeks know the meaning of good food and fine atmosphere.
In Brno we, Greek lovers, are very lucky as the city offers us many opportunities to feel the salted wind and taste the right combination of spices.
You can find restaurants offering you Greek authentic food, supermarkets with Greek products, Greek language teachers, a school of Greek dances and much more!
I decided to start with the most important part – to the Greeks at least – the food.
Here you will find the list and short reviews of restaurants, supermarkets, and entertainment and community tips (in alphabetical order) that will offer you the blue and white moments in Brno, as well as where to find them.
Alati Restaurant (link)
In Alati restaurant you can always enjoy delicious food and wine, friendly service and a warm Mediterranean atmosphere.
Everything is cooked with old family recipes passing from generation to generation. "This is what makes it different from the other Greek restaurants in Brno," Mr. Giannis, the owner of the restaurant says.
There is a big variety, as there are both the main menu and also the daily lunch menu, but the most popular dish remains the mixed grill.
"Even though I have tried many dishes in this restaurant, No. 1 for me and my friends still remains the Mix Grill plate, this is a must-try! Mix Grill consist of perfectly grilled, tender and juicy pork, chicken, keftedakia (Greek meatballs), homemade Greek sausage, sauce and pita," a happy customer wrote in his review on Facebook.
You can find the Alati Restaurant at Pionýrská 69/1 (map), for reservations you can call 776 278 647. The working hours are from 11 am to 10 pm from Monday to Saturday and the restaurant is closed on Sunday.
Alas – Greek products Brno/ Ελληνικά προϊόντα Άλας (link)
Alas – Greek products Brno is an e-shop, opened in 2015, where people can buy authentic Greek products.
"The main idea was to bring quality Greek products to Brno, ones which Greek people who are living in Brno were trying to find and were nostalgic for. Also we wanted Czech people and foreigners to try them," Emmanouela, the owner of the shop, says.
The aim of the e-shop is to bring high quality products for affordable prices, supporting in this way small local businesses in various regions of Greece. You can find products such as: tea, herbs, spices, handmade olive oil soaps, handmade organic cosmetics, jewelries, drinks and much more.
You can find products from Alas – Greek products Brno in their e-shop, their Facebook page and in specialized shops such as Kousek Řecka na talíři and Coffee Bar Meet me.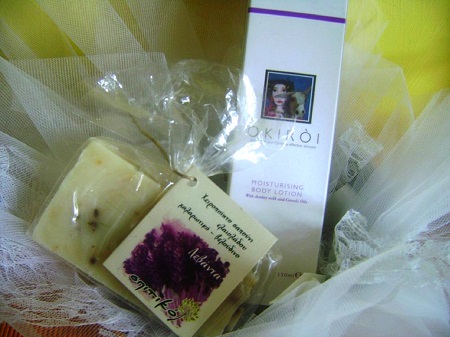 Coffee Bar "Meet Me" (link)
Unique Coffee for Unique Personalities!
Do you want to meet some friends after work, but you are bored of the regular, constantly packed cafeterias? Coffee Bar "Meet Me" is the place you need.
Here you can come to relax, have a good coffee, wine and something to eat.
The bar offers Greek coffee with the right authentic taste and the right smell, made according to traditional recipes!
A customer review says: "Great place! Good food and drinks, nice atmosphere. Super friendly staff!!! You cannot miss this coffee shop!"
You can find Meet Me Coffee Bar at Veveří 464/17 (map). The phone number for reservations and questions is 606 283 622.
The working hours are from 7:30 am to 9 pm on Monday, Tuesday, Thursday, from 7:30 am to 10 pm on Wednesday and Friday and from 10 am to 10 pm on Saturday. On Sunday it is closed.
Cosmopolis Grill (map)
Situated in the city center, this restaurant will make you feel Greek with their regular and every day menu, which includes pumpkin soup, chicken fillet, garlic soup, moussaka and much more!
A happy customer writes:
"You are an amazing Greek island in the center of a Czech town. When you get in you forget that you are abroad. Everything is Greek even the salt on the tables. Food is cooked exactly as it is cooked in Greece, thing that means you have full knowledge. Bravo!"
The restaurant is on Kozí 705/5 (map), its public number is 530 328 370. The working hours are from 11 am to 11 pm from Monday to Thursday, 11 am to 12 am on Friday and Saturday and from 12pm to 10pm on Sunday.
Taverna Athena (link)
A small and delicious piece of Greece in the city of Brno.
The restaurant is perfect for Greek cuisine lovers, for those who want to try one of the most famous cuisines in the world and for those who wants to bring back the beautiful moments and delicious tastes they had in Greece.
As one customer writes on his review:
"I loved the warmth with which they treat customers!!! We ate there on December 24, because we had not make a good reservation and we found this restaurant by chance, after walking many streets in Brno!! They received us very warm, we ate delicious food and their attention could not be better! Thank you. A hug from Colombia and I recommend 100 %."
Taverna Athena offers to their customers not only authentic Greek cuisine, but also hospitality and atmosphere which can be rarely found.
You can enjoy your Greek dishes in the restaurant at Štefánikova Street (see map), in your office or at the comfort of your home as it offers delivery services as well. Order by calling 608 613 565!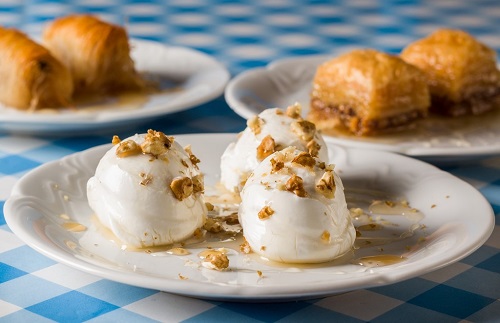 Even before entering Ellas, you know you are going to spend a great time there. After making the first step and having the most warm welcome you could ever have from the staff, you will probably be the highlight of your day.
The main reason to be here is, of course to be warm, friendly and loud as Greeks but also something that is very rare to find in Greek restaurants abroad – you have to know the Greek language. Everyone speaks Greek!
Food lovers from all over the world will enjoy becoming a Greek for a while!
"I want to be here all the time, I want to give to my customers the best. We have to respect their money. People are working, getting tired and they come to spend their money at yours restaurant. I have to respect that. That's why all the time I'm telling to the guys to make the best they can. I want everything to be perfect. If there are any complaints I'm trying to resolve them at the same time," Mr. Vasilis the owner of the restaurant, says.
As we know hard work pays off. Customers love this restaurant:
"It's authentic Greek family restaurant and it means ALWAYS super friendly staff, cozy warm atmosphere, and very tasty food. There you can feel you are in Greece for a while:) Bravo to you guys, very tasty!"
And when you will be leaving don't forget to take a piece of Greece with you!
You can buy Greek oils, sweets, chips, chocolates and many other Greek goods at the most affordable prices you can find in Brno!
The working hours are from 11 am to 11 pm from Monday to Saturday and 12pm to 10pm on Sunday.
You can dine in, take away and delivery your favorite dishes from Ellas, by calling 530 347 464.
The restaurant is located at Sokolská 4 (map).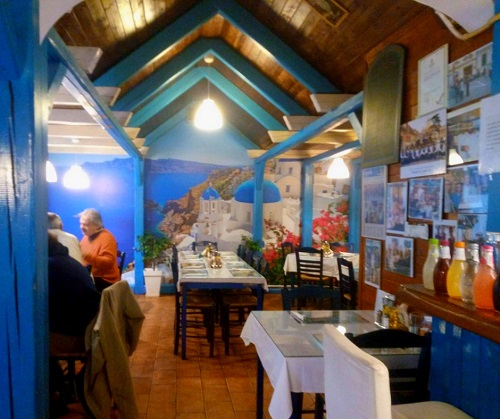 Kousek Řecka na talíři – Πίττες και άλλες νοστιμιές (link)
If you want to spend your afternoon in a cozy atmosphere, or if you want to grab a homemade chicken pie on the way to work this place is for you!
It is not a restaurant, it is not a cafeteria – it is a combination of everything.
You can dine in, you can grab some food for takeaway, order catering or make a party! Anything you would like to do, this place has an offer.
Opened one year ago, at 11/11/2016 in Anenská 54/22 (see map), by a sweet Czech woman who considers herself Greek – Marcella, the restaurant very quickly became one of the favorite spots for Czech and Greek people!
"I believe there was some mistake and I should have born Greek. I was always talking a lot and loud. After living in Greece for 22 years I feel more Greek than Czech, I don't know if it is for good or no," Marcella laughs.
Homemade authentic Greek pies, Greek dishes, Greek sweets and Greek products are waiting for you!
The most important is that nothing is frozen. Everything is prepared at the same day, early in the morning and are being put in the oven when customer come to order.
The shop offers every day a different dish of the day to its customers, so you can try a variety of Greek flavors.
Every Friday and Saturday are ouzo nights with "rebetika" (Greek music), but make sure you will find a table by making a reservation on 604 168 477 until Thursday.
"I feel that Greek's mentality is what fits me. Greek people are always happy and will to help you and make your day better but when you need them they will be there for you. This is what we want to have in our shop. Happy people that will make your day while you pass by to take your pie!," Marcella smiles.
The working hours are from 7:30 am to 6 pm from Monday to Friday, 10 am to 6 pm on Saturday. The shop is closed on Sunday.
Except the restaurants mentioned above which offer Greek products, there are supermarkets that have Greek products too.
At Trimoncium – Balkánské speciality (link) you can find variety of Greek products and at Globus Hypermarket you can find Greek oils.
Greek culture in Brno – beyond food
Everyone knows that Greeks love good food, however, everyone also knows how important the role of Greece is in the world history.
Greeks are proud of their roots and of the Greek cultural heritage. They want their children to know about who they are, how important is their country and they always want to continue with the tradition.
As an ancient great Greek philosopher, Aristotle, said:
"Those who educate children well are more to be honored than they who produce them; for these only gave them life, those the art of living well."
Here is the list of the places that keep alive the Greek soul in Brno.
Greek Community in Brno (link)
The Greek Community in Brno is a non-profit organization.
Its purpose is to bring closer Greeks and their families which live in Brno and its surroundings, and to strengthen the bonds of friendship between people who love Greece, Greek language and Greek culture.
The mission is to represent Greek culture, language, national consciousness and national identity. Because of that Greek Community wants to encourage cooperation with Czech and Greek organizations that are active in the field of culture and education.
The most important for the Community is to build an open, friendly and welcoming society that will active contribute to the further strengthen of friendly relations between Greece and Czech Republic.
Greek language lessons in Brno (link)
There are Greek language lessons within the Unity of Greek Communities of Czech Republic with financial support from the Ministry of Education, Youth and Sports of Czech Republic for students from 4 to 26 years old.
In the premises of the Greek Community of Brno, at Radnická 8 street (map), regular lesson of Greek languages are going on with teachers Μgr. Simone Sumelidu (tel. 605 475 832) and Mgr. Tereza Keslová (tel. 728 851 690).
At Wednesdays from 16:00 to 16:50 there are lessons for students of 2nd and 4th grades, from 17:00 to 18:00 – 5th and 7th grades and from 18:00 to 19:30 to youths.
Advanced lesson are every Friday from 16:30 to 17:30.
Once a month there are weekend meetings with games and language lessons.
Twice a year, at September and in June, weekends bring language lessons as well as camping in the nature.
For adults, there are Greek lesson at the philosophical department of Masaryk University (MUNI).
The lessons are for different levels with basic aim on the speaking skills.
You can find more information on the MUNI website and from Mgr. Simone Sumelidu.
The Department of Classical Studies from Masaryk University has a field of Greek language and literature.
In addition, there are private lessons of Greek language. You can contact for more information to Greek community at 542 216 125.
Greek Dance Group "Promitheas" (link)
Established in Brno at 1966 by 30 people, the ensemble participated in many festivals of Greek community in Czechoslovakia, later in Czech Republic and also outside of the country.
Music group with the same name was established too. Both groups were making concerts outside of then-Czechoslovakia, but also in Switzerland, Germany, and Central Greece.
The dance group stopped performing in 80's, but continued with their work in 1991.
In 1995, they won the biggest prize that can be given to an ensemble or a person in Czech Republic for contribution to dissemination and promotion of cultural tradition.
Today the group appears mostly at dances which Greek Community of Brno organizes for celebration of national anniversaries. They participate in festivals of national minorities at South Moravia region and the city of Brno and at Greek festivals.
In addition, they appear at Christmas festivities and other concerts, participate at yearly festival Babylonfest, "We live in one town", and at the festival of national minorities of South Moravian Region in Hodonin.
The main mission and goal of the dance group is to preserve the Greek tradition as well as to educate and to create a place where friends of Greek tradition can meet.
Most of these goals are achieved and contribute significantly to the cultural diversity of city of Brno, South Moravian Region and Czech Republic in general.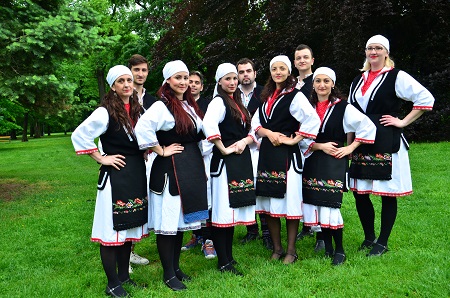 The Lyceum of Greek women (link)
Greek women are known for their temperament, but also a caring and loving nature. These are stereotypes, however, Greek women contributed to the history of Greece in many ways and we can see echoes of their work today.
The Lyceum of Greek women is known in the Greek world because of the contribution to conservation and the dissemination of Greek culture from 1911 when it was established in Athens from pedagogue, Kalliroi SIganou Parren.
In 2000, the administrative council of the lyceum of Athens accepted the application of Greek women of Czech Republic to establish a new annex abroad.
Lyceum of Greek women has 66 annexes, 50 are in Greece, and 16 are abroad. The annex in Brno is one of the 8 in Europe.
The Lyceum was established in Brno in co-operation with the Hellenika Foundation. Both are housed in the building of the Greek Center, at the historical core of the city of Brno together with other Greek Communities in the Czech Republic.
From 2002 the Lyceum teaches Greek traditional dances to youths from Prague, Brno, Krnov, Bohumin, Ostrava and Karviná, thanks to the economic support from Ministry of Education, Youth and Sports of the Czech Republic.
If you want to feel the Greek rhythm, you can call 732 557 827 or 605 426 887.
Facebook group "Greeks In Brno" (link)
The group was created almost 5 years ago, and now has almost 1500 people.
Information website for Greeks (link)
Greeks can find plenty of useful information in Greek language. The website was recently launched, with the purpose of helping out Greeks that come to live in Brno.
Greek events in Brno
Life isn't black and white, it is actually blue and white. And little salty.
Greek men have a long-term reputation for deep political conversations, comparable to political debates of legendary presidents. Sometimes, they would like to engage in discussions some more, but everyday responsibilities hold them back.
One thing is sure – everything is put aside for Řecká sobota na hradě Veveří (Greek Saturday at Veveří castle), the biggest Greek event in Moravia.
The event doesn't have a specific date. It is held once a year and you can easily check their Facebook page (link here) to see when the next Greek Saturday at Veveří Castle is happening.
"The programme is improving every year. You can see Greek dances, you will be taught by a dance lector, you will try Greek food and listen to Greek music," Marcella, who is one of the organizers, says.
The event aims to bring visitors to the Veveří State Castle which is historically connected to Greece, as the castle after many owners in 1844 came into possession of a Greek banker, baron Georgios Sinas.
For both small and big visitors, a rich cultural and historical program is prepared throughout the day, with the opportunity to taste and buy selected Greek gastronomic specialties.
The event is unique because all the Greek associations and groups are working together on the programme of the event. This is something really rare and nice to see in action.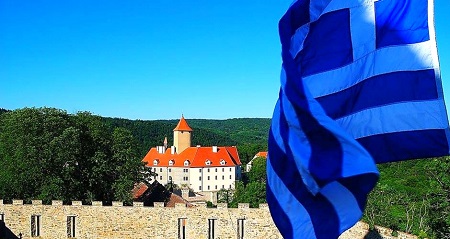 From 24th of November to 23rd of December at Moravske Namesti will be a Christmas Festival. Ellas restaurant (mentioned above) will have a big house with 4-5 shops. It will also be the only one with Greek products.
At the same time, another festival will be hold on Zelny Trh and Ellas will participate there as well, serving the Greek Christmas spirit by offering people Greek food such as stakes, Greek sausages and of course sweets such as melomakarona, vasilopites and kourampiedes.
Opening Soon…
Here at Brno Daily, we love surprises and we love to surprise our readers.
At the beginning of December a New Greek mini market will open in Kounicova Street which will offer you Greek product at the same prices as they are in Greece!
The owner is our favorite Mr. Vasilis from Ellas restaurant who is in love with his country and always tries to find new ways to make people fall once and forever in love too.
Alongside the Greek products, there will also be a bakery.
Therefore tyropita (cheese pie), zamponopita (ham pie), loukanikopita (sausage pie), even the favorite to all Greeks mpougatsa and much more are on the way to Brno – straight from Greece!
"We could prepare them here but then they wouldn't be Greek, because the ingredients wouldn't be Greek. In addition by buying products from a small industry I give money to my country. I know that these money will go to Greek hands," Mr. Vasilis says.
You will also have the opportunity to buy all the Greek coffees, for take away in plastic glasses! So no more missing the frappe in the morning!
Parking lot in front of the shop will be available for customers.
Do it the Greek way here in Brno, because – as my favorite Gus Portokalos says:
"There are two kinds of people – Greeks, and everyone else who wish they were Greek!"
Related articles:
"This is Brno, my friend!" – Russian food, products, and events in Brno
Feel the heat of Hispanic American culture in Brno – food, products, events, and entertainment – Part 1
Feel the heat of Hispanic culture in Brno – food, products, events and entertainment – Part 2
https://brnodaily.com/2017/11/08/relocation-to-brno/my-greek-brno-greek-restaurants-products-and-events-in-brno/
https://brnodaily.com/wp-content/uploads/2017/11/Greek-restaurants-products-and-community-in-Brno.jpg
https://brnodaily.com/wp-content/uploads/2017/11/Greek-restaurants-products-and-community-in-Brno-150x90.jpg
Art & Culture
BD Magazine
Brno Daily Recommends
Brno Urban Guide
Eating Out / Nightlife
Relocation to Brno
Travel
Brno,Brno Urban Guide,Culture,Eating Out / Night Life,Expats Czechia,Music,Things To Do in Brno
"Give me a word, any word, and I'll show you that the root of that word is Greek!" Picture: @BrnoDaily While you are walking in the streets of Greece after a whole day of swimming in the warm Aegean Sea and… wait, let's start again.While walking the streets of Brno...
Elena Sokolnikova
Elena
Sokolnikova
elena.sokolnikova11@gmail.com
Contributor
Hi I'm Elena. Born in Russia, raised in Cyprus and currently, living in Brno. I love travelling, wine and photography.
Brno Daily