Fewer cars and safer pedestrians in front of Brno Main Station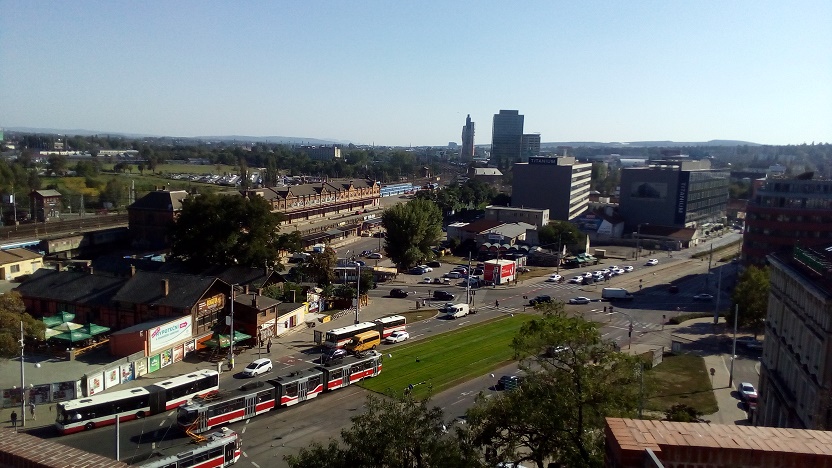 Transportation in front of Brno Main Station will change significantly. Limited access and reduced speed should result in the decrease of traffic by 76% from January 2018. Photo: @BrnoDaily
Brno, Oct 23 (BD) – Thousands of cars, trams, and pedestrians each day are jammed side by side at the tram platform "Hlavák" (Brno Main Station). The Brno municipality wants to get rid of most of the cars, Czech Television (Česká televize) reports.
"There are tens of thousands of pedestrians commuting daily and plenty of passing transport vehicles. The area is primarily intended for pedestrians, not car traffic," Deputy Mayor Matěj Hollan told Česká televize. According to the analysis, there are 4500 cars per day and even 2,000 more from the direction of Letmo shopping center.
Getting ready for overall reconstruction
The adjustments announced are just a tip of the iceberg. The aim of the city is to cultivate the area before the complete reconstruction of Benesova Street, Czech Television reported.
"The complete reconstruction is being prepared, but the safety and comfort of the passengers need to be improved as soon as possible. Therefore, we propose to limit car traffic at this point, "Hollan told Czech daily news server iDnes.cz.
The new proposal will be posted on the official municipal board from Monday. Within 30 days, people can comment on it. New restrictions will be valid from January 2018 if people raise no objections.
Convenient for passengers, restrictive to cars
The organization of buses, trams, bicycles and pedestrian will remain intact. Moreover, new short-term parking places called Kiss and Ride will be created to ensure more comfort. They enable drivers to drop their relatives and friends in front of the Main Station.
According to iDnes.cz, Hollan sees cars that only shorten their journey through this area as the main problem.
The proposal deals with following limitations:
a) Speed will be limited to 30 km/h.
b) It will be forbidden:
to turn from Nádražní to Benesova (towards the bus station near Hotel Grand)
to turn from Křenova street (link from the viaduct to Benesov) to Benesova street (towards the railway station)
to turn from Masarykova Street towards the railway station;
c) Only buses, cyclists, and vehicles of the integrated rescue system will be allowed to access "Hlavák" from these directions.Temporary traffic signs will alert drivers to the changing organization of the traffic.
d) At the 5th and 6th platforms (behind the train station near Tesco) a new Kiss and Ride short-term parking places will be available for passengers.
https://brnodaily.com/2017/10/23/breaking-news/fewer-cars-and-safer-pedestrians-in-front-of-brno-main-station/
https://brnodaily.com/wp-content/uploads/2017/09/brno-main-station.jpg
https://brnodaily.com/wp-content/uploads/2017/09/brno-main-station-150x84.jpg
News - Archived
Transport
Breaking News,Brno,Brno Urban Guide,Transport,Urban Plans
Transportation in front of Brno Main Station will change significantly. Limited access and reduced speed should result in the decrease of traffic by 76% from January 2018. Photo: @BrnoDailyBrno, Oct 23 (BD) - Thousands of cars, trams, and pedestrians each day are jammed side by side at the tram...
Zuzana Pápayová
Zuzana
Pápayová
zuzanazetqapapayova@gmail.com
Editor
Slovak expat in Brno; a philosopher by night and rebel by fate who is too eager to understand it all, yet too understanding to loot the mysterious magic of the world.
Brno Daily