RC Dragon Brno Hosts Říčany For A Rugby Showdown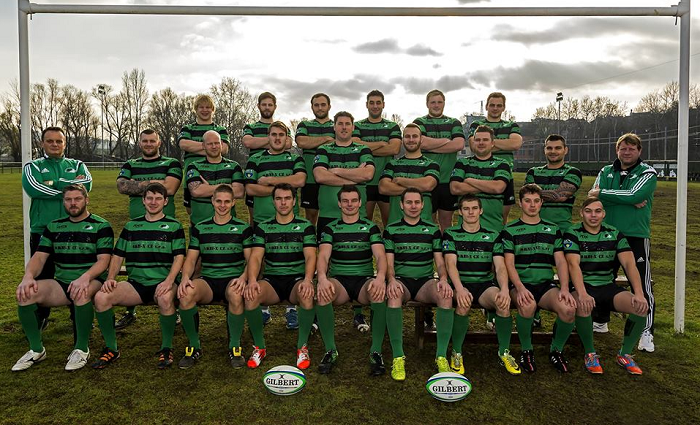 Brno, Sep 13 (BD) – Kometa starts title defense with two wins, Draci sweep Kotlářka Praha to advance to Czech Series, Zbrojovka and Lokomotiva drop games, and the Brno sports schedule. Photo: Brno Dragons Rugby
Brno Sports Weekly Report by Bruno Zalubil Reorganization.
It is the theme for both the Rugby Extraliga and Rugby Club Dragon Brno.
The top rugby league in the country has moved the start of the regular season forward to the spring and instead established the Autumn Cup for seven teams to play in a round-robin format. Brno — which was relegated, went undefeated in the second league, and quickly returned to the first league — is still putting the pieces back together of their decades-old club. And the structural changes to the league couldn't have come at a better time.
"This is ideal for Brno," said Nigel Briggs, a longtime fixture with the team, "because it gives us a chance to play at the top level again without having to worry about relegation. As a result we have some breathing space to help with our rebuilding, which is how we are approaching the matches this autumn."
This Saturday, RC Dragon Brno hosts Mountfield Říčany at their home field in Malomerice at 1 p.m. The B teams will play at 3:15 p.m.
Brno has struggled so far in the Autumn Cup, losing at RC Tatra Smíchov on Aug. 26 and at home against RC Praga on Sept. 2.  Last week, they were competitive but lost in the second half at RC JIMI Vyškov.
"Unfortunately, results so far have been poor but improvement is visible so this Saturday we have some hope for a first win," Briggs said.
The game against Říčany could be a nice way to spend a late summer afternoon. The Malomerice field is best accessed via the No. 4 tram and a 10 minute walk from Tomkovo náměstí, mostly along the Svitava River. Because of construction, buses can get you closer, to Proškovo náměstí, for a 5-minute walk. There are many cycling trails and walking paths in the area. Click here for an online map.
Normal attendance is made up of about 100-200 friends, family, ex-players, and sports enthusiasts. It is mostly standing-room only and there is no cover in case it rains. Entrance is 60Kc.
Refreshments, including beer, soft drinks and sausages, are available. The venue is child-friendly and there is even space for changing diapers in a spare room. Dogs must be on a leash or under control near the field.
Říčany is located southeast of Prague and it has been a traditional powerhouse in Czech rugby. The Dragons have always played them well in Brno. The matchup has extra significance because the Dragons' head trainer — Martin Javůrek — won six titles with Říčany, either as a player or a trainer.
Jan Tieber is a Dragon player to keep an eye on. He is returning to play after an injury suffered during training a year ago. Zbyněk Schütz, who has played in the UK, Canada and Ireland, is another top local player. Additionally, three younger players from last year's U-18 team are expected to make their home debuts.
Rugby is an international game so it is not uncommon that the Dragons have attracted a worldly roster throughout the years.
"The team is mostly Czechs but we have a couple of Slovaks," Briggs said. "Over the years we have had players from all over: Spain, Ireland, France, Portugal, Ukraine, New Zealand, Scotland etc."
The club, which was founded in 1946 and which has used several names over the decades, has been known as RC Dragon Brno since 1991. It won national titles in 1950, 1965 and 2000. There are about 200 active members, including several youth teams and, since 2008, a women's team.
Click here to go to the team website.
HOCKEY
Kometa Starts Title Defense with 2-out-of-3
Kometa celebrated their 2016-17 Tipsport Extraliga title with great fanfare prior to the 2017-18 season-opening game last Friday. By Tuesday night, they had won twice — against Oceláři Třinec on Friday and Mountfield Hradec Kralove on Sunday — and lost once to BK Mladá Boleslav on Tuesday as they attempt to defend their title.
Two-out-of-three ain't bad.
The season-opening game packed DRFG Arena and showed on televisions throughout Brno as the local fans showed their excitement for the new season. Then the game started. Less than a minute later, Oceláři Třinec had already scored a goal and forced Kometa to play catch-up for the rest of the game. Happily for the hometown fans, Kometa got two goals in the final six minutes of regulation time to send the game into overtime: Jan Hruška scored in the 54th minute and Ondřej Němec scored in the 58th minute. Martin Erat, who assisted on three goals including the two third-period goals, was named the Kometa player of the game. Tomáš Svoboda, in his first regular-season game after a few years away from Kometa, scored the clinching goal in the shootout.
Including two prior Champions Hockey League home games, Kometa sent its fans home for the third consecutive time after an overtime win, having beaten KalPa Koupio on Aug. 31 and Stavanger Oilers on Sept. 2, both times after tying the game in the third period and winning early in overtime. Kometa has won all four of its Champions League games to sit atop Group B. They host Malmo on Tuesday, Oct. 3 at 7:30 p.m.
On Sunday, Kometa went on the road to beat Hradec Králové, 2-4, and kept the game under control from start to finish.
They returned to Brno on Tuesday. BK Mladá Boleslav scored two unanswered goals in the third period to tie the game at 2 and then, with four minutes remaining take the lead, 3-2.
BASEBALL
Draci Advance to Czech Championship Series
Draci Brno finished atop the standings in both the first and second parts of the Czech Baseball Extraliga season to earn a berth in the Czech Championship Series.
The Draci finished with a 31-5 record in the first round and a 14-1 record in the second. The Czech Series will begin at MBS on Friday, Sept. 22 against either Arrows Ostrava or Kotlářka Praha. (The other two games will take Draci Brno on the road on Saturday, Sept. 23 at 1 p.m. and then, if necessary, back to Brno on Sunday, Sept. 24 for a 1 p.m. game.)
Arrows Ostrava (13-2) finished a game back and they were the only team to beat the Draci during the second half. Kotlářka Praha (8-7) finished six games back after having won their first seven games prior to the international break. They will decide which team will advance this weekend.
The Draci won their 16th Czech Baseball Cup on July 19. They hope to be the Czech baseball champions for the 21st time by taking the best of three games in the Czech Series.
Kotlářka, which won the title in 2015, is the only team to unseat the Draci in the past few years. Yet, in the last three games of the second half of the season, the Draci cruised past the Prague team, winning 4-1 at home on Friday and, in Prague, 2-7 on Saturday and 6-9 on Sunday.
Cardion Hroši Brno finished the first half of the season in third place with a 23-13 record. They were 4-11 in the second half.
Technika Brno was 16-20 in the first half and 17-   5 through Wednesday in the lower-level second half; they appear likely to remain in the Czech Extraliga.
FOOTBALL
Zbrojovka Drops To Last Place in HET League
After their shocking victory over Sparta in late August, Zbrojovka tightened up their offense with a 8-1 non-league victory over AFK Tišnov. Unfortunately, they could not keep the momentum going when they travelled to FK Mladá Boleslav and lost, 3-0, in the sixth round of the HET Liga last Sunday.
Zbrojovka is officially last in the 16-team league standings. Three other teams have the exact same records — 1-1-4 and four points — but Zbrojovka has a larger goal differential (minus 7) with 11 conceded goals and only four scored.
Zbrojovka hosts FC Slovan Liberec on Saturday at 5 p.m.
Liberec, which was just beaten 3-0 at home by league-leading FC Viktoria Plzeň, is fifth in the standings with a 3-1-2 record and 10 points.
A note to fans: If you are going to attend a Zbrojovka game, purchase tickets ahead of time or online when tickets are 150 Kč. Tickets purchased on the day of the game cost 200 Kč.
WONEN'S FOOTBALL
Lokomotiva Remains In Lower Half of Standings
Lokomotiva Brno Horni Herspice dropped to 1-0-4 in the top league of women's football when they proved unable to contain the FC Viktoria Plzeň offense, giving up a goal in each half to Veronika Mášová, and losing, 0-2, at home on Saturday.
Lokomotiva is among four teams in the eight-team league that have only one victory through the first five weeks of the season. SK Slavia Praha (5-0-0) is atop the standings. AC Sparta Praha (4-0-1) and 1. FC Slovácko (4-0-1) are right behind.
Lokomotiva will have a week off, then travel to SK Slavia Praha on Sunday, Sept. 24. The game starts at 2 p.m.
BRNO SPORTS RESULTS
Quick results for various Brno professional and recreational sports for the past week. Home team listed first (when applicable).
— Skokani Olomouc 0, Cardion Hroši Brno 8
— Baseball: Draci Brno 7, Cardion Hroši Brno 0
— Hockey: Kometa Brno 5, Oceláři Třinec 4 (shootout)
— Baseball: Draci Brno 4, Kotlářka Praha 1; Arrows Ostrava 1, Cardion Hroši Brno 0
— Rugby: JIMI RC Vyškov 36, RC Dragon Brno 22
— Baseball: Kotlářka Praha 2, Draci Brno 7; Arrows Ostrava 4, Cardion Hroši Brno 0
— Women's Football: Lokomotiva Brno H. H. 0, FC Viktoria Plzeň 2.
— Hockey: Hr. Králové 2, Kometa 4
— Baseball: Kotlářka Praha 6, Draci Brno 9; Cardion Hroši Brno 2, Arrows Ostrava 4
— Football: Mladá Boleslav 3, Zbrojovka Brno 0
— Hockey: Kometa 2, Ml. Boleslav 3
BRNO SPORTS SCHEDULE
The schedule for various Brno professional and recreational sports for the next two weeks. All dates and times subject to change. Home team listed first (when applicable).
— Hockey: Zlín X Kometa, 5:30 p.m.
— Football: Zbrojovka Brno X Liberec, Srbska, 5 p.m.
— Running: Brno Zoo Run, 11 a.m.
— Rugby: RC Dragon Brno X Mountfield Říčany, 1 p.m.
Hockey — Kometa X Chomutov, DRFG Arena, 5 p.m.
————————————————————
— Baseball, Czech Series: Draci Brmo X Arrows or Kotlářka, MBS, 7 p.m.
— Football: Karviná X Zbrojovka Brno, 5 p.m.
— Baseball, Czech Series: Arrows or Kotlářka X Draci Brno, TBD, 1 p.m.
— Running: 5|10 Mile Brno Run, 8 p.m.
— Rugby: RC Slavia Praha X RC Dragon Brno
— Women's Basketball: USK Praha X Valosun Brno; Handicap Brno X BLK Praha
— Hockey: Kometa X Dukla, DRFG Arena, 5 p.m.
— Baseball, Czech Series: Draci Brmo X Arrows or Kotlářka, MBS, 1 p.m. (if necessary)
— Women's Basketball: U19 Chance X MK Technic
— Women's Football: SK Slavia Praha X Lokomotiva Brno H. H., 2 p.m.
The Brno Sports Report is published every Wednesday. All dates and times are subject to change. Most of the stories are about the traditional "English-speaking" team sports — football, hockey, baseball, basketball, American football, rugby, etc. — but it is also about the interesting local spectator and participation sports — tennis, badminton, running, horse racing, swimming, rock climbing, biking, etc. If you have any suggestions for what should be included, please comment below or send an email to brnosports@gmail.com.
https://brnodaily.com/2017/09/13/breaking-news/rc-dragon-brno-hosts-ricany-for-a-rugby-showdown/
https://brnodaily.com/wp-content/uploads/2017/09/Brno-Dragons-Rugby.png
https://brnodaily.com/wp-content/uploads/2017/09/Brno-Dragons-Rugby-150x91.png
News - Archived
Sport
Breaking News,Brno,Sport,Things To Do in Brno
Brno, Sep 13 (BD) – Kometa starts title defense with two wins, Draci sweep Kotlářka Praha to advance to Czech Series, Zbrojovka and Lokomotiva drop games, and the Brno sports schedule. Photo: Brno Dragons RugbyBrno Sports Weekly Report by Bruno Zalubil Reorganization.It is the theme for both the Rugby...
Bruno Zalubil
Bruno
Zalubil
bzalubil@hotmail.com
Author
A connoisseur of the unpredictable and unscripted drama of sports.
Brno Daily