Residential Parking in Brno Postponed Once Again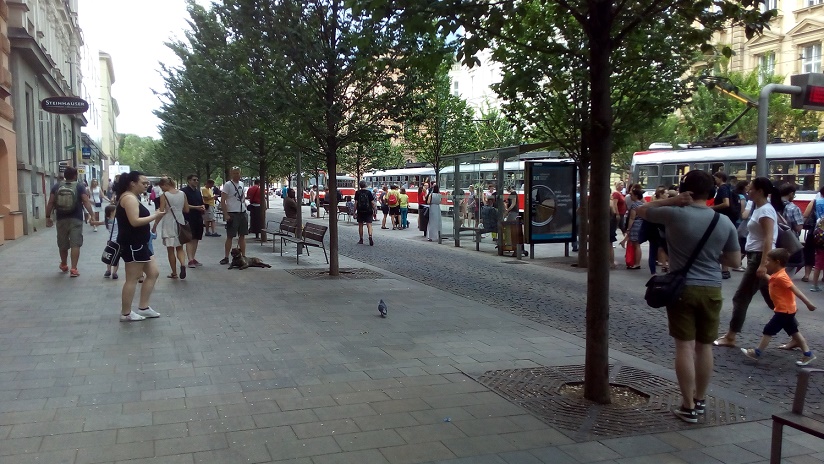 Brno, August 23 (BD) – The residential parking system in Brno got postponed once again when the Municipality's request for subsidy of 80 million CZK from the Ministry of Transport was turned down, Česká televize [Czech TV] reported yesterday. Photo: @Brnodaily
Brno Municipality was planning to run a trial period for the residential parking system in the historic city center. The Ministry of Transport deemed that it is unclear whether the plan will improve the parking system of the city and refused to pay the subsidy.
"The decision of the Ministry of Transport is not right. The Municipality is ready to approve the funding of the urban project from city's budget next week, "said Deputy Mayor of Brno, Matěj Hollan, to Česká televize. The total cost is estimated to reach up to 120 million Czech crowns.
Brno City Hall has been planning the residential parking for three years now. The original date of its implementation was spring of 2016; then the plan got postponed for May 2017.
This fall, the residential parking system was supposed to be launched at Benešova, Nádražní, Divadelní, Rooseveltova, Moravské náměstí, Joštova and Husova streets.
The next date for the trial period is scheduled in 2018. Before that, Brno residents will be divided into three categories and according to them, they can pay the fee and start using the new parking areas.
After the historic city center, more city districts will be gradually added to the residential parking project.
Originally, 11 out of the 29 districts of Brno wanted to join the plan, but now only two of them have confirmed their participation. The others are still hesitant.
The parking options and adherence to the rules will be checked with surveillance cameras, parking cameras and mobile apps for residents and subscribers.
"The major advantage of residential parking is the traffic regulation." said Michal Radimský from the Institute of Road Communications of Brno University of Technology.
https://brnodaily.com/2017/08/23/breaking-news/residential-parking-in-brno-postponed-once-again/
https://brnodaily.com/wp-content/uploads/2017/08/Jostova-street-in-Brno.jpg
https://brnodaily.com/wp-content/uploads/2017/08/Jostova-street-in-Brno-150x84.jpg
Business
News - Archived
Politics
Transport
Breaking News,Brno Urban Guide,Business,Politics,Transport
Brno, August 23 (BD) - The residential parking system in Brno got postponed once again when the Municipality's request for subsidy of 80 million CZK from the Ministry of Transport was turned down, Česká televize reported yesterday. Photo: @BrnodailyBrno Municipality was planning to run a trial period for...
Michaela Pa
Michaela
Pastourmatzi
michaela.pastourmatzi@gmail.com
Editor
Hi! My name is Michaela, I'm from Greece and I'm currently living in Brno.
Brno Daily