Brno Sports Weekly Report – Zbrojovka Tries to Add Another Title for Brno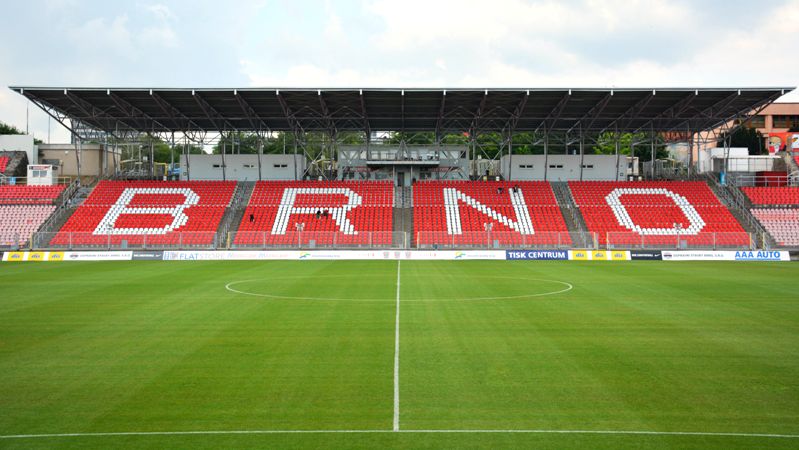 Brno, July 26 (BD) – The Kometa will soon defend their Tipsport extraliga hockey title. The Draci continue to add to their long list of postseason baseball honors. And the Alligators just won the second league in American football. It is, in other words, a good time for sports in Brno. Photo: Zbrojovka
Every Wednesday, this column will feature the main story of the week and touch on all of the other major sports events in the city. First up is FC Zbrojovka football.
FC Zbrojovka football – Zbrojovka tries to add another title for Brno
FC Zbrojovka Brno football this season may best be summed up as: Africa and up the middle.
Captain Pavel Zavadil and striker Jakub Řezníček are out. Francis Koné, Musefiu Olasunkanmi Ashiru, and a strong central spine of Jan Polák, Tomáš Pilík, and Dušan Melichárek are in.
On Friday, the new mix of players will begin the 2017-18 HET Liga season against Baník Ostrava at 6 p.m. — and the African offense and the central support will be the key to improving upon last season's subpar 11th-place finish.
Koné, 26, is one of the biggest men on the team at 189 cm and 90 kg. He was born in the Ivory Coast, has Togo citizenship through his mother, and he has played football in Thailand, Oman, Portugal, Hungary, and, for the past two years, with Slovacko, where he impressed then-Slovacko coach and current Brno coach Svatopluk Habanec with his offensive skills.
Ashiru, a 23-year-old wing, is one of the smallest men on the field at 170 cm and 74 kg; nevertheless, the Nigerian impressed many with his quickness and ball-handling skills during the second half of last season.
Look for Milan Lutonský, a home-grown product, to play opposite Ashiru in a more offensive role; he is primed for a breakout year.
Also, just last week it was announced that 29-year-old Michal Škoda has returned. Škoda, a tall offensive player who can use his head, led the league at the midway point with 10 goals last year. After a half-year stint in Norway, he is back in Brno for another go.
The offense will be fed by Polák, a 36-year-old former national-team player, and new-addition Pilík, a 28-year-old veteran from Příbram. Melichárek, 33, is a solid goalkeeper with a lot of experience — and a 193-cm frame with a big wingspan.
Speaking of the middle, this year the flag-waving, diehard fans will be in a central position in the main stands (under the year-and-a-half old roof), increasing their impact on the atmosphere.
Expect a large and enthusiastic crowd when Moravian-rival Baník comes to play. Baník fans will be extra excited because this will be their return to the top league. (The team had been relegated to the second league after a terrible 2015-16 season.) Baník is back, and so will their police escort.
Zbrojovka started as a football club in 1913. It won the league championship in 1977-78 and the Czech Cup in 1959-60.
The HET League has 16 teams. Zbrojovka will play each team at home and away. There is usually a game every weekend, except for the occasional break for international games. The first half of the HET season will end in early December and the second half will resume in mid-February and end in late May. The top two teams advance to the UEFA Champions League and the next two teams advance into the UEFA Europa League. The bottom two teams are relegated to the lower league, the Fortuna Narodni Liga.
Zavadil went to second-league Opava for the twilight of his career and Řezníček moved to Plzeň.
What: Opening Game of the HET League 2017-18 season, 1FC Zbrojovka Brno versus Banik Ostrava
When: Friday, July 28, 2017 at 6 p.m.
Where: Městský fotbalový stadion, Sbrska.
Cost: 150kc if bought in advance on-line here (available in English); 200kc at the gate.
TV: The game will be televised live by Czech TV.
Hockey – Kometa Preseason Starts Next Week
One truism about Brno sports: Kometa tickets are hard to come by. Now that Kometa are the defending champions of the Extraleague, tickets will be even more difficult to find.
If you want to experience Brno hockey, a preseason game might be the answer. There is still a lot of atmosphere and you actually have a good chance to purchase a seat to sit in. Kometa has two scheduled homes games at DRFG Arena in the next three weeks:
Thursday, Aug. 3, 2017, versus Slovan Bratislava at 6 p.m.
Thursday, Aug. 17, 2017, versus Dukla at 6 p.m.
Reserved seats cost 100kc. Standing tickets are 70kc. Tickets can be purchased at DRFG Arena during specific times according to the Kometa website (only in Czech).
The regular season will begin on Friday, Sept. 8, when Kometa hosts Oceláři Třinec at 5:20 p.m. The game will be televised on ČT Sport.
Superstars Jagr, Elias to Play in Havlát Charity Game in Brno
Jaromir Jagr, Patrik Elias, Zdeno Chara, and Marián Hossa all earned international fame with NHL and national teams. On Wednesday, Aug. 9 they will all be in Brno to help their playing colleague raise money for charity as part of "Martin Havlát and Mistři Dětem".
Seats cost 390kc. Standing-room-only spaces are 190kc. Children 130cm or shorter are free with an adult. For more information, go to the following website (in English):
Motor sports in Brno – MotoGP Continues Summer Tradition, Aug. 4-6
Motorcycles will come roaring back into Brno with thousands of international racing fans for the Monster Energy Grand Prix, Aug. 4 to 6. There are several ticket options. Motogp.com is full of information about the event in multiple languages. Purchase tickets on the following page (in English).
Baseball – Brno to Host U23 European Baseball Championships
The Czech Republic will host the U23 European Baseball Championship 2017 from Aug. 7 to 13. Fifteen teams and the host Czechs will play in four groups. The Czechs are in Group D and they will play all of their games at Městský Baseballový Stadion (Sokolova 2, Brno-jih). The semi-finals will be played on Aug. 12 and the finals are slated for Aug. 13, all at MBS. See this web for more information (in English).
Draci Win 16th Czech Baseball Cup
The Brno Draci are perhaps the most successful team in Brno history. They won their 16th Czech Baseball Cup on July 19. There are many games left this season, including the postseason in September. See Baseball.cz for more information.
American Football – Brno Alligators Beat Cross-Town Sigrs in Silver Bowl XII
The Brno Alligators (7-1-1) beat the Brno Sigrs (7-1-1) in Bitters Silver Bowl XII, 38-31, at Rugby Club Bystrc on July 9 to become the 2017 champions of the second league of the ČLAF. In two years, the Alligators have won two championships: last year they beat the Znojmo Knights in the finals of the third league and now they have won the second league title.
This is the first installment of the weekly Brno Sports Report. Most of the stories will be about the traditional "English-speaking" sports — football, hockey, baseball, American football, rugby, etc. — but it will also be about the interesting local spectator and participation sports — tennis, badminton, running, horse racing, swimming, rock climbing, biking, etc. If you have any suggestions for what should be included, please pass them along.
https://brnodaily.com/2017/07/26/breaking-news/brno-sports-weekly-report-zbrojovka-tries-to-add-another-title-for-brno/
https://brnodaily.com/wp-content/uploads/2017/07/zbrojovka-brno-sport-events.jpg
https://brnodaily.com/wp-content/uploads/2017/07/zbrojovka-brno-sport-events-150x84.jpg
News - Archived
Sport
Breaking News,Brno,Sport
Brno, July 26 (BD) - The Kometa will soon defend their Tipsport extraliga hockey title. The Draci continue to add to their long list of postseason baseball honors. And the Alligators just won the second league in American football. It is, in other words, a good time for sports...
Bruno Zalubil
Bruno
Zalubil
bzalubil@hotmail.com
Author
A connoisseur of the unpredictable and unscripted drama of sports.
Brno Daily